---
Easton Jamia Masjid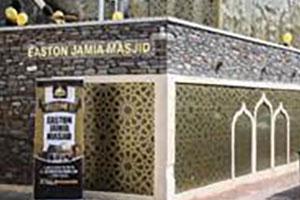 The Easton Mosque as it is commonly known is situated in an old Church hall near the shops in St Marks Road. It is one of the larger Mosques in Bristol holding up to 600 people. This includes 400 men and 200 women. It opens on a daily basis for prayers. The congregation is very mixed but with a Pakistani majority. They follow the Barelvi ideology of Islam.
The key aim of the Easton Jamia Masjid is to educate the youth of Islam and all its variants, enabling them to live a life of respect, humbleness and honour. The Mosque aims to inspire the love and honour of Islam into the hearts and minds of the community. They aim to prepare the community as good ambassadors of Islam with their good behaviour, noble citizenship and civilised manners.
The Mosque opens for 5 prayers a day and also Friday prayers. There are also lessons that take place in order to teach children the Quran, prayer and Islamic discipline.
For further information please call Mr Majid Younis on 07708333312 or Mr Hanif Aslam on 07854479094.
Easton Jamia Masjid is a member of Council of Bristol Mosques
Your Local Mosque Police Liaison Officer is PCSO Dawn Pearse, for information call her on 07889658273.
Easton Jamia Masjid
St Marks Road
Easton
Bristol
BS5