---
Hazrat Bilal Centre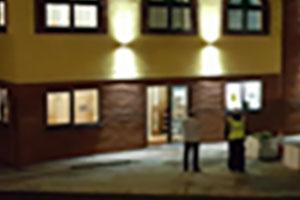 Hazrat Bilal Centre is the new name and site of the One of the First Mosques to open in Bristol, which was known as Islami Darasgah Bristol. The Mosque is a brand new purpose built building which has capacity of approximately 300 (Including space for women).
The Mosque opens on a daily basis for prayers with a congregation that is predominantly Pakistani but welcomes all sections of the diverse Muslim Community.
They follow the Sufi (Hanafi Bavelvi) ideology.
For further information please e-mail info@hazratbilal.org or visit hazratbilal.org.uk
Your Local Mosque Police Liaison Officer is PCSO Dawn Pearse, for information call 07889 658273.
41 Sevier Street
St Werburghs
Bristol
BS2 9QX