---
Shah Jalal Jame Mosque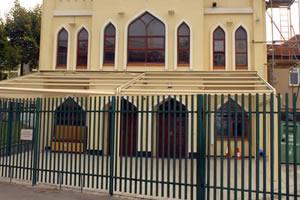 The Shah Jalal Mosque was the only purpose built Mosque in the South West and is situated alongside the M32.
The Shah Jalal Mosque opens on a daily basis for prayers and is used during the evenings and weekends for various events. Regular Quran and Arabic lessons are given to children. The Mosque has two levels and has a capacity of approximately 400. This includes 300 men and 100 women. They are very closely aligned to the Bangladesh Association in Stapleton Rd and this reflects the congregation, which although mixed is predominantly Bangladeshi.
There are many meeting organised with schools and colleges as well as city councils.
For further information please call Mohammed Abdul Wahab MBE on 0117 9078 488.
Your Local Mosque Police Liaison Officer is PCSO Dawn Pearse, for information call 07889 658273.
Shah Jalal Jame Mosque
468-470 Stapleton Rd
Easton
Bristol
BS5 6PE